Trapped In Three Movements
Trapped in Three Movements (Remixing Tarab), is a sound performance by artist Jana Saleh, comprising of three movements. Following the first movement, The Musicians and the Taqsim, during which the artist installed The Tubes, and the second movement, a live performance, Movement Three, a Party, took place during the closing week of the show Touché! Gesture, Movement, Action at the Beirut Art Center
Excerpt from Trapped In Three Movements
Mounira Al Solh – Lackadaisical Sunset to Sunset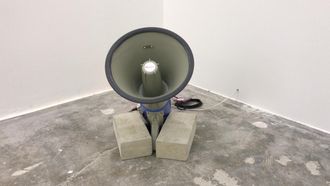 Soupir is a quarter note rest in music, the time of one beat in silence, it also means a sigh in French. This is a composition for solo piano that broke during the august 4th blast recorded with a broken microphone in an untreated room in Beirut.
Featured in Irtijal's 2021 compilation Istimrar. 
Senyawa Remixes_05_Kiamat (Jana Saleh Remix)
Olivia Erlanger - Portrait of D', music.
Excerpt from a 1 hour long remix of Al Atlal
Music for the Netflix series "JINN"
Wake Island_Last Ruin Remix
Performing Cevdet Erek's Shore Scene Soundtrack